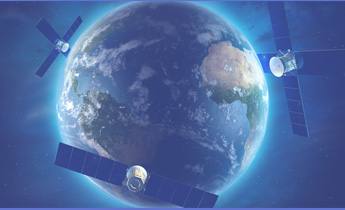 Major European Space Actors to study Space Traffic Management
The European Commission has selected a consortium of major European launcher and satellite manufacturers, operators and service providers, as well as policy and legal research centres and institutes to study and provide guidelines and recommendations on Space Traffic Management (STM). This project, called SPACEWAYS*, will characterise and analyse the current changing context of STM, especially its international and domestic dimensions. SPACEWAYS will assess the European capabilities as well as technology gaps and it will provide a legal, policy and economic assessment leading to final recommendations for implementation.
STM is becoming a major concern for space activities. The number of satellites and space debris is growing rapidly, inducing risks for long-term space sustainability. Rules governing space traffic are required to protect this environment and the vital network of satellites which support everyday life activities. In a context of renewed efforts by the European Commission to ensure European technological sovereignty and to guarantee the implementation of the European Union space programme, it is crucial to bring established industrial partners around a common understanding of STM issues. In order for the European Union to embrace the stakes of STM and protect its values and interests, the development of a collaborative European vision of STM is required and will be one of the objectives of SPACEWAYS. 
SPACEWAYS is part of the Horizon 2020 European research programme. It includes 15 partners and is coordinated by the Foundation for Strategic Research (Fondation pour la Recherche Stratégique – FRS) in Paris. The eighteen-month-project is valued at EUR 1.5 million.
The Consortium members are: Airbus Defence and Space, Arianegroup, Deimos Engineering and Systems, European Space Policy Institute, Fondation pour la Recherche Stratégique, Indra Sistemas, International Institute of Air and Space Law at Leiden University, Istituto Affari Internazionali, Leuven Centre for Global Governance Studies at Katholieke Universiteit Leuven, OHB System, European Union Satellite Centre, Thales Alenia Space, Telespazio.
RETURN