SPACEWAYS: European Ways Forward for Space Traffic Management
The goal of the SPACEWAYS project is to provide recommendations and guidelines to the European Commission on Space Traffic Management (STM), especially its international and domestic dimensions. To this end, the project will characterise and understand the current changing context of STM. Indeed, current standardisation efforts led by the United States and China have the potential to set norms in a domain that remains largely unregulated.
This may have a large impact on both the political and economic domains. STM is not a European-centric topic, but a worldwide issue. As a key international actor, the European Union must embrace the stakes of STM to protect its values and interests.
In this context, SPACEWAYS will focus on two main aspects of STM: an analysis of European capabilities and technology gaps, and a policy, legal and economic assessment of this domain, finally leading to recommendations and guidelines.
A team of key European Stakeholders experienced with STM challenges
The strength of SPACEWAYS lies in the partnership between major European research institutes and European Space Industry players, used to working together and capable of providing an end-to-end analysis of Space Traffic Management (STM) issues and the most appropriate answers and solutions.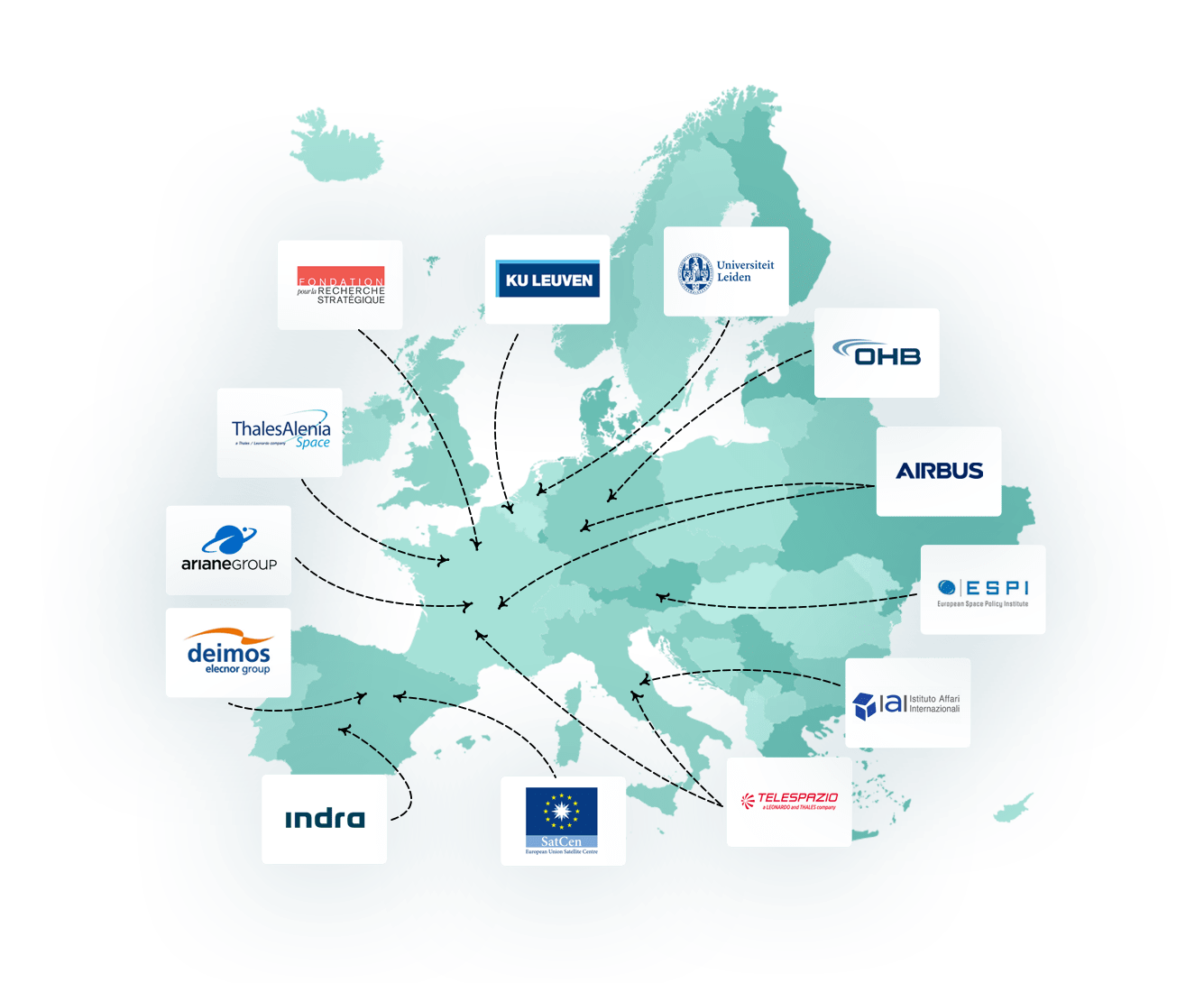 Our consortium brings these key actors together to develop a collaborative European vision of STM. This consortium, coordinated by the Fondation pour la Recherche Stratégique, is able to provide a complete review of STM stakes at each stage of the analysis, from concepts to industrialization, taking into account the evolution of legislation, and its impacts on technologies, space infrastructure and satellite operations.
All key European actors in STM development, notably at the technical level, are stakeholders in this project.
An inclusive project designed to gather all European views
From the legal and policy perspectives, our consortium brings together the major research centres and institutes involved in analysing existing legal regarding space objects and operations management. Amongst them are experts known for their competence in defence and security-oriented strategic perspectives.
The civilian and military implications of STM are therefore well understood and taken into account. Furthermore, the professionals involved are some of the most renowned and knowledgeable legal and space policy experts in the field at the international level, working not only in academia and think tanks, but also trusted as key experts by national governments and effective in ensuring engagement and dissemination within the EU.
A 'policy lab' to help set the course for European STM policymaking
To ensure the study outputs are embraced by the whole European space community, external stakeholders, such as satellite operators and ground system manufacturers, will be actively involved with the stakeholder engagement program, and through regular contacts with our industrial partners.
As a result, SPACEWAYS intends to offer normative ways forward, with the aim to develop governance perspectives on STM during the project.
In a context of renewed efforts by the European Commission to ensure European technological sovereignty, the team believes that SPACEWAYS is a key and timely project. In a rapidly changing space environment characterised by several U.S. initiatives, it is crucial to bring established industrial partners around a common understanding of STM issues as soon as possible. As a whole, our project proposes to set up a 'policy lab', which through the collaboration of all European actors that have a stake in this topic, will offer precursor elements to a European policy on STM.
Click here to access the video introducing the project -with Dr Xavier Pasco, Director of the Fondation pour la Recherche Stratégique and Project Coordinator for SPACEWAYS.
Objectives
CREATING LINKS WITH STAKEHOLDERS
Spaceways will foster a unified vision of STM between European actors to better understand and assess the needs of the different categories of stakeholders and users. European institutions, operators and innovative space actors will participate in a series of workshops in which they will share their knowledge and views on STM. This multi-actor framework is the core of the Spaceways project.​.
ASSESSING STM LEGAL AND POLICY FRAMEWORK
ASSESSING EUROPEAN STM TECHNICAL CAPABILITIES
DISSEMINATING GUIDELINES AND RECOMMENDATIONS
PROPOSING GUIDELINES AND BEST PRACTICIES